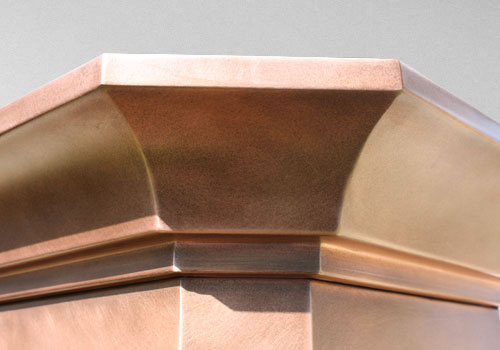 ► Crown Moldings
Our crown moldings are another nice feature that can work with most any design. They are formed by hand and our level of detail in the welding and finishing is second to none, along with the rest of the hood. We have several different stock designs in our CAD library and every now and then we design something new to fit a "unique" situation.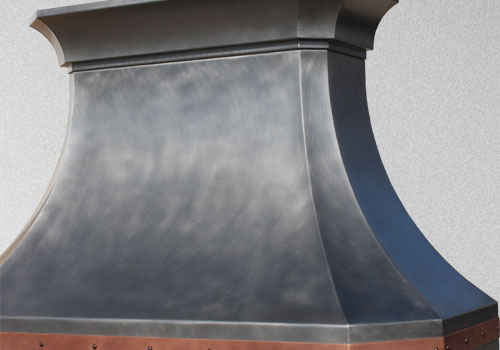 ► Double Mitered Seams
Double mitered seams are the best way to add more perspective to your hood. This feature adds two more faces to your range hood and goes great with all of our designs, especially the Arabella.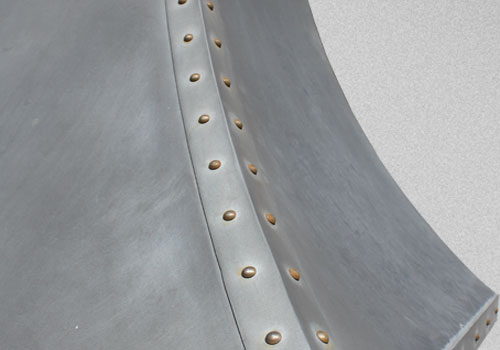 ► Seam Straps
Seam straps are a perfect way to add a subtle flare to any of our custom range hoods. They can be made of any metal in any finish and are always a structural feature when employed on our designs. If you look at our examples you will notice two varieties: outside seam straps and inside seam straps. Both options look good when using a contrasting metal in relation to the hood body.

Click to view: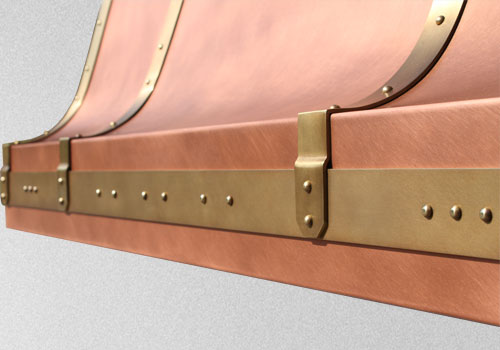 ► Straps
Straps are similar to seam straps but can go anywhere along the hood. Although rarely used as a structural feature, straps are used to define the hood maker. We typically use what we call "honest joinery" in our strap-work, which simply means that we do not weld the intersections; we like to show our level of detail in our work and how well the work is fit. In addition to this, we take great pride in our rivet paths and strap layout; to our philosophy, it is where practicality and art combine.

Click to view: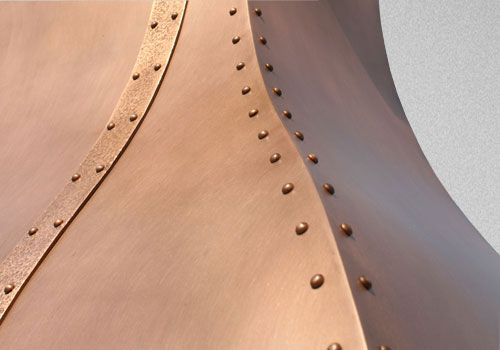 ► Seam Rivets
Seam rivets are a great way to add the handcrafted aesthetic to any hood. Although a common feature on many of our Arts & Crafts kitchen hoods, seam rivets work well for any design genre. We have a variety of options for both the size and material used for this selection and the possibility for a custom designed and machined rivet is always available.

Click to view:
Small Roundhead
Large Roundhead
Low-profile Roundhead
Small Flathead
Large Flathead
Square Head Bolt
Clavos
Finished Example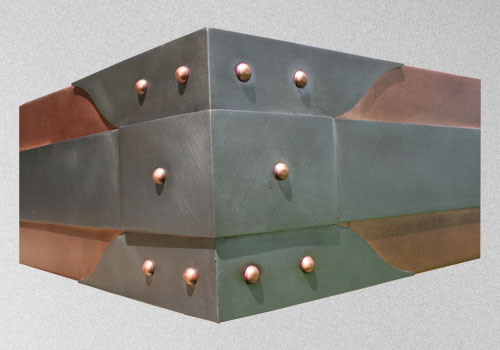 ► Corner Plates
Corner plates are artistic subtlety at its best. Derived from corner casings of old antique chests, they add a nice touch to any hood design. Although traditionally used as a design element for Arts & Crafts and Rustic Kitchen Hoods, they can be installed with a blind rivet for a sleek and minimal look as well. We rarely use the same design twice; each one is specifically designed for your hood.

Click to view: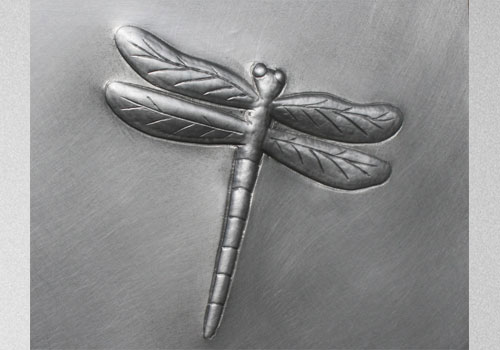 ► Repoussé
Repoussé is good way for us to add a touch of your personality on our work. Although most commonly associated with the Arts & Crafts style, a custom repoussé design is the ultimate form of expression. Our work is done by hand using traditional techniques; there are no press formed designs coming out of our shop. We can repoussé most any design including initials, symbols, etc. The possibilities are endless. Consider repoussé—a lost art form—on your range hood or fireplace hood.

Click to view: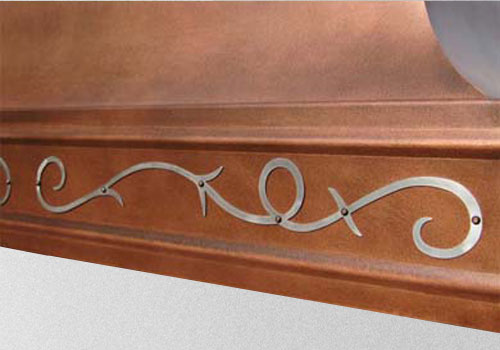 ► Design Overlay
Design overlays are another way to add artistic flare to your project. These elements are custom designed in CAD and cut via CNC to the highest level of precision. Just like the repoussé, the possibilities are endless and we are always looking for new opportunities.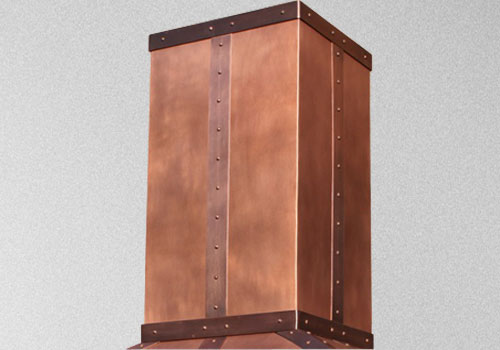 ► Flue Extension
The flue extension is less of an option and more of a necessity for some "taller orders." They work well for very large ceilings and are most commonly utilized on taller Traditional Sweep and Classic Dome range hood designs. The can also be utilized on island range hoods. Using this feature can sometimes alleviate the overall cost of a project by not having to run welded seems all the way to the top of your custom kitchen hood.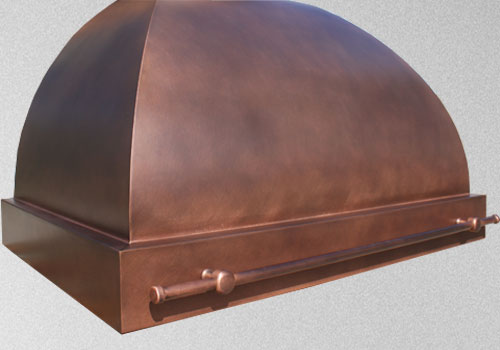 ► Pot Rail
Pot rails are a nice feature for adding symmetry and utility to your hood. We have several stock designs available but have custom designed and machined our own on past projects. This feature is available on any design and in the following metals: copper, stainless steel, brass.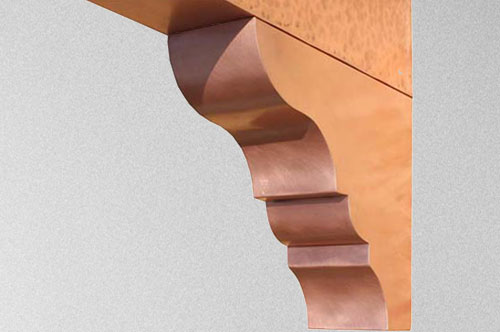 ► Corbels
Corbels, which are also referred to as decorative brackets, are a beautiful way to showcase your kitchen hood. Corbels add a presence to the piece that is simply incomparable to any other feature, especially when paired with an upper crown molding. Just like our corner plates, each new corbel is designed for you; there are no stock designs on this feature. We thrive on originality.
.